Innovative crane ballast developed for Potain IGO T85 A with a short radius
Optimised load curves ensure that the IGO T range from Potain meets the demands of modern construction sites.It combines high performance with quick assembly and adjustable jib lengths and working heights. The IGO T 85 A with a working load of 6000 kg is the second commercialised model in the Potain range.Bruckert Beton is now offering a new type of crane ballast for the IGO T 85 A.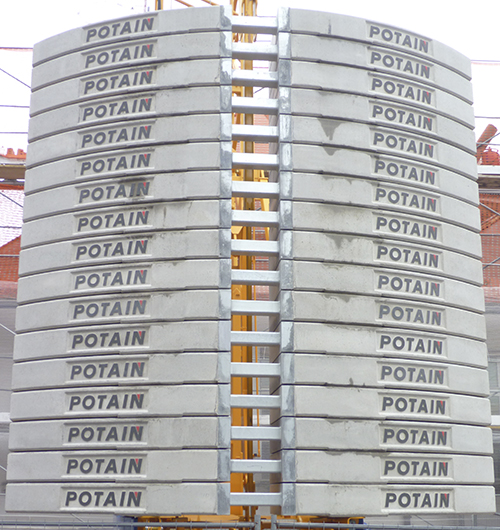 Bruckert Beton has supplied national and international crane manufacturers and distributors with high-quality ballast slabs for top and bottom slewing cranes for 25 years. Based in the German spa town of Bad Schönborn, the family business manufactures for all major tower crane manufacturers such as Potain, Wolffkran, Liebherr, KSD Krane and others. Bruckert is listed as a certified direct supplier of the Manitowoc Crane Group of St. Nizier s/Charlieu (France) and is part of its close-knit supplier network.
Bruckert is also developing new ballasting solutions in close cooperation with the manufacturer's design engineers. As a result, Bruckert and Manitowoc have jointly developed and launched a new type of crane ballast for the IGO T 85 A which bypasses the shortcomings of the previous model.
The distinctive characteristics of the IGO T 85 A are the excellent manoeuvrability (easy cornering, easy access to construction sites with limited space) and excellent control within a compact space. Depending on the space conditions of the construction site, two installation options are possible. For a tight turning radius, as required in urban areas, a shorter ballast of 3m radius is offered. Here, the new development by Bruckert is shown in the form of a special steel construction for the concrete ballast which combines and strengthens both ballast blades. The breaking resistance and durability of this type of ballast have been substantially improved by this innovative development, as different product and load tests carried out by the Potain factory in St. Nizier s/Charlieu have shown.
In a multi-step pilot process, Bruckert has also designed the technically challenging crane ballast for the IGO T 130 for Manitowoc, another model from the IGO range with a maximum load of 8000 kg. According to the manufacturer, this is the largest self-erecting crane in the world and it was first unveiled at BAUMA 2010.